Contact Us
The Amberg Museum Complex is located about one-third mile off U.S. highway 141. Follow County V or Coleman Avenue through town, across the railroad to the intersection with Grant Avenue where County V makes a sharp turn to the left. The museum is located adjacent the intersection. The street address is N15065 Grant Street. Click on the map to enlage.
Mailing Address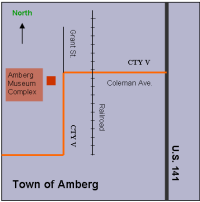 P.O. Box 22
Amberg, WI 54102
E-mail:
Contact Amberg Historical Society
Hours of Operation
Friday 1:00 - 4:00 p.m.
Saturday 10:00 a.m. - 4:00 p.m.
Memorial Day - Labor Day
Membership Information
To become a member please fill out the membership application and follow the instructions.