Publications
All of the publications of the Amberg Historical Society shown below are available for purchase at the Amberg Museum.
Amberg, the first 100 years, 1890-1900.
This premier publication of the Amberg Historical Society contains stories and photographs about the history of the Town of Amberg including the important industries of quarrying, logging, railroads, and farming. It tells the early history of the towns of Pembine and Niagara that had their origins from the Town of Amberg. Learn about the extinct towns of Argyle, Martindale, and Cedarville. Explore the early life and culture of the area. Includes a collection of local family histories. Reprint with table of contents, 2010. 301 p. : ill. ; 28 cm.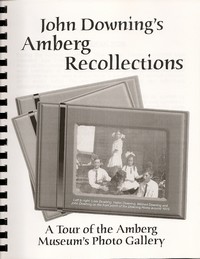 John Downing's Amberg recollections: a tour of the Amberg Museum's photo gallery.
The publication includes the complete transcript recorded and transcribed in 1996 of John Downing, one of the founders of the Amberg Historical Society, as he recalls his memories, told with his unique humor and wit, of people, places, and events portrayed in the museum's photo gallery. Includes a list of names of those who appear in the text. Reprint, 2009. 28 p. : ill. ; 28 cm.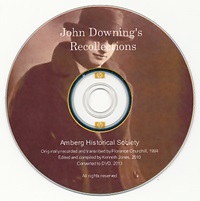 John Downing's recollections (DVD)
The DVD contains select anecdotes from the publication, John Downing's Amberg Recollections, including original voice recordings of John Downing, one of the founders of the Amberg Historical Society, and related photographs from the Pioneer Photo Gallery. This is the same presentation as viewed in the museum. 2013, 21:40 minutes, HD.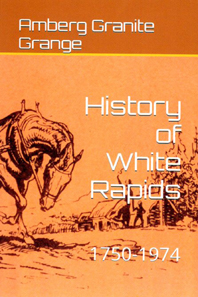 History of White Rapids, 1750-1974
The collection of stories, originally compiled by the Amberg Granite Grange, portrays the history of the White Rapids Settlement. It tells of the Indian culture, forest fires, the early days of settlers, churches, the school, the power dams, and includes personal anecdotes and family biographies. Second printing, 2001. 116 p. : ill. ; 22 cm.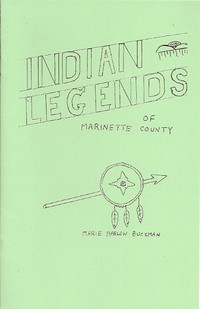 Indian legends of Marinette County by Marie Barlow Buckman.
A collection of eight Indian lore including the Pemene and Menominee Rivers, Thunder Mountain, Silver Cliff, Medicine Brook and others. 16 p. ; 20 cm.