Title:
Libby corned beef can
Catalog Number:
2011.16.64
Notes:
Libby began producing corned beef in trapezoidal shaped cans in 1875.
Description:
Libby, McNeill, & Libby's compressed, cooked corn beef trapezoidal shaped can.
Date:
ca 1900
Size:
H-4 W-4 D-2 inches
KID TALK:
How is the shape of this can different from a rectangular shaped can?
Subjects:
Cans
General stores
Click to Enlarge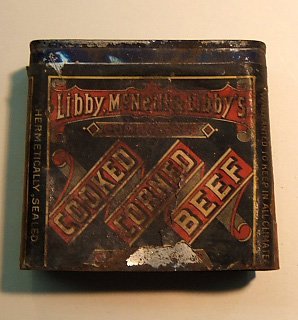 Libby Cooked Corned Beef Can