Title:
Jar rubbers
Catalog Number:
2011.16.70
Notes:
Carpenter Cook Co. were grocery distributors from Menominee, Isphpeming, Iron Mountain, & Iron River, Michigan.
Description:
Three boxes jar lid seals: Ball Good Luck Jar Rubbers, box of 12; Joannes Lipped Jar Rings, Green Bay, one dozen; Wigwam Fruit Jar Rubbers--distributed by Carpenter Cook Co.; 6 rubber jar rings without box. The rings were used to seal glass canning jars before metal lids with rubbler seals.
Size:
W-3 L-3 D-1 inches
KID TALK:
These rubber seals were used on canning jars that had glass tops instead of the usual metal rings used today.
Subjects:
Canning & preserving
Seals
Click to Enlarge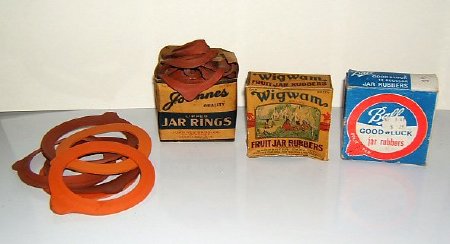 Jar Rings & Rubbers