Title:
Pabst intestinal cure
Catalog Number:
1991.74
Notes:
"It is an internal remedy and will not cause complications. No other treatment required for this remedy. Contains nothing injurious of the constitution and can be taken without inconvenience and detention of business."

"Has the reputation of giving satisfactory results no matter whether used in new cases or those of long standing."

$3.00
Description:
Metal trade sign for Pabst's Okay Specific medicine used to help intestinal problems.
Size:
W-6 L-9 inches
Made:
Pabst Chemical Company, Chicago, Illinois
KID TALK:
Many medicines were sold in general stores. Some made claims to cure illnesses that most people today would see a medical doctor.
Subjects:
Medicine
Click to Enlarge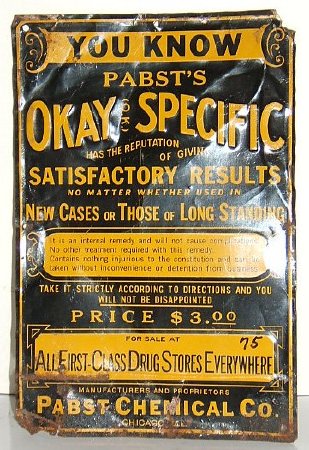 Pabst's Okay Specific Trade Sign