Title:
Banana shipping crate
Catalog Number:
2011.16.2
Description:
Wooden banana shipping basket.
Date:
ca 1930
Size:
H-19.5 Dia-16.75 inches
Inscription:
Wishnatzki & Nathel
Plant City, Florida
Product of United States.
KID TALK:
Producers shipped fruits and vegetables in various wooden containers. These bushel baskets were filled with bananas. What kind of container do you think would be used today?
Search Terms:
Downing General Store
Click to Enlarge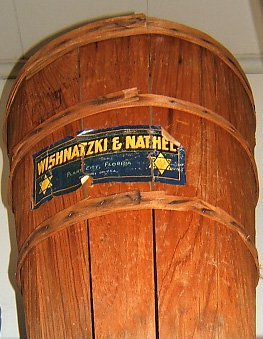 Banana Shipping Basket