Title:
Tea shipping container
Catalog Number:
2011.16.16
Notes:
Still contains aroma of the green tea.
Description:
Wooden tea shipping container with a hinged top and metal latch; inside has zinc liner; outside with paper covering; held 40 half-pound packages.
Date:
1930's
Size:
H-11 W-10.5 L-17.75 inches
Inscription:
Golden Cup Green Tea packed in Japan
Made:
Carpenter Cook Co., Menominee, Michigan and nine more branches
KID TALK:
Read the above description. How many pounds of tea is in this container?
Search Terms:
Downing General Store
Click to Enlarge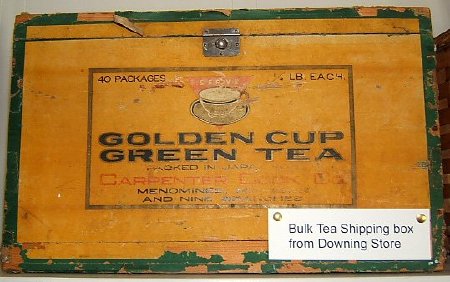 Golden Cup Green Tea Shipping Container