Title:
Pencil sharpener replacement cutters
Catalog Number:
0014.14
Description:
Premier pencil sharpener set of replacement cutters.
Size:
W-1.25 L-2.25 inches
Made:
Automatic Pencil Sharpener Co, Chicago
KID TALK:
The general store served the needs of the community. If your pencil sharpener wore out you could replace the cutters, and it sharpened like new.
Subjects:
Pencils
Sharpening & honing tools
Click to Enlarge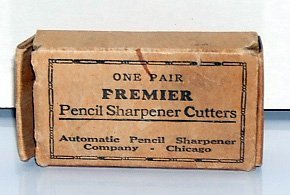 Premier Pencil Sharpener Cutters