Title:
Mendits repair kit
Catalog Number:
0014.6
Notes:
Patent pending 1926
10 cents
Description:
Mendits repair kit to mend leaks without using heat, soldering, cement, or rivets in "Grantiteware, aluminum, and hot water bags.
Date:
1926
Size:
W-1.5 L-4 inches
Made:
Collette Manufacturing Co., Amsterdam, New York.
KID TALK:
If a cooking pan breaks most people today throw them away. In the early 20th century, people made an effort to repair before discarding. This kit was available in a general store and could be used to repair an aluminum pan and other household items.
Subjects:
Repair
Click to Enlarge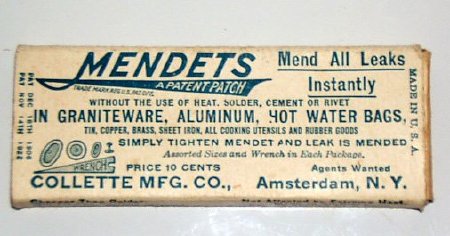 Mendets Patch Kit