Title:
Dolley shopping book
Catalog Number:
1992.124
Notes:
On cover:

"Fine Groceries, Flour of all grades, selected teas, pure coffee and spices, butter and cheese from the best dairies, choice syrup and molasses, foreign and domestic fruits, canned fruits in variety. See a complete assortment of goods usually kept in a first-class store."

"Goods delivered promptly free of expense."



Description:
Personal record shopping book kept by Ruth & Cecil Dooley.
Size:
W-3.5 L-6 inches
People:
Dooley, Ruth
Dooley, Cecil
KID TALK:
This wise shopper kept track of their weekly purchases at the general store in this booklet. Why do you think they did this?
Subjects:
Grocery lists
Click to Enlarge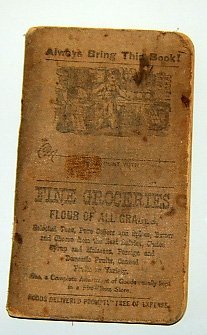 Dooley's Shopping Record Book