Title:
The McCaskey Safe
Catalog Number:
2011.16.41
Description:
Safe from Downing Store with four castors on the bottom and two shelves inside, one stationary and the other sliding; there is a hole in the door where the combination lock was forcibly removed during a robbery in 1950.
Date:
ca 1940
Size:
H-44.75 W-25.5 D-27.5 inches
Inscription:
The McCaskey Register Co.
KID TALK:
The robber who one night broke open this safe found only two silver dollars. Where do you think the rest of the store's money was taken?
Subjects:
Safes
Robberies
Search Terms:
Downing General Store
Click to Enlarge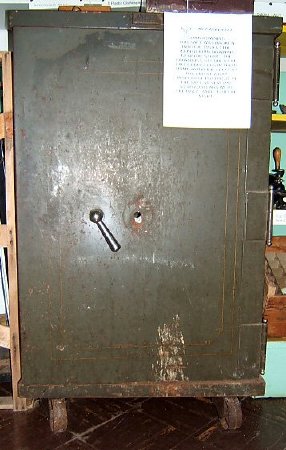 Downing Store Safe After Robbery