Title:
Sanka coffee
Catalog Number:
2011.16.59
Description:
Sanka coffee can uses key attached at bottom to remove lid.
Date:
ca 1930
Size:
H-3.5 Dia-5 inches
Made:
Maxwell House Division, Hoboken, N.J.
KID TALK:
Coffee that came in a metal can had a key that when turned removed a band of the metal away from the top. Look careful at the picture. Do you think this can was opened?
Click to Enlarge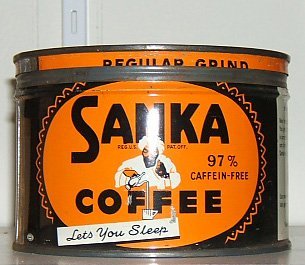 Sanka Coffee CAn