Title:
Twisting tool & wire
Catalog Number:
2011.16.77
Description:
Spool of wire and tool used to seal feed and other cloth bags by twisting wire around neck of bag with twisting tool.
Size:
W-10 Dia-8.5 inches
KID TALK:
A general store might even sell animal feed in large sacks. These metal ties used a special tool to seal the top of the cloth sack.
Subjects:
Wire
Click to Enlarge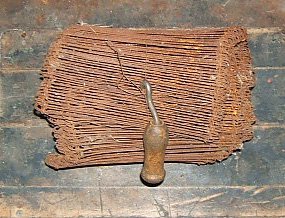 Twisting Tool & Wire