Title:
Ray Brite Lemon Soap container
Catalog Number:
2011.16.48
Description:
Cardboard tub with top and bottom metal rims and handle that originally contained Ray Brite Lemon Soap Granules; marked 23 cents per pound.
Size:
H-12.5 Dia-13.5 inches
Inscription:
Ray Brite Lemon Soap Granules
Softens water, cuts grease, speeds dish washing, eases housecleaning, easier tub washing, kind to the hand & clothes.
The Rayann Sales, Milwaukee, Wis.
KID TALK:
Laundry soap is usually sold in boxes or in plastic containers. Why do you think a general store would sell it by the pound?
Subjects:
Laundry
Search Terms:
Downing General Store
Click to Enlarge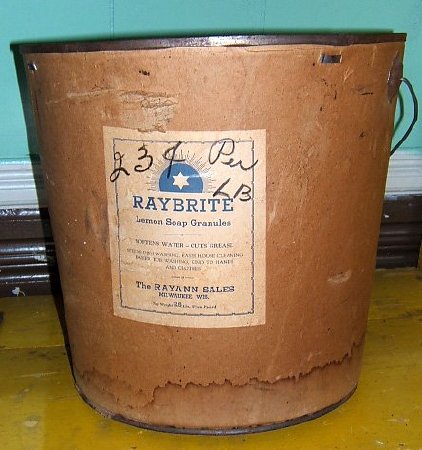 Ray Brite Lemon Soap Granules Container