Title:
Stainless diaper pins
Catalog Number:
0014.7
Notes:
7 pins for 30 cents
Item #312
Description:
Shelton new diaper pins with cardboard holder.
Date:
ca 1960
Size:
W-4.5 L-5 inches
Made:
The Star Pin Co., DeLong Products, Shelton, Conn.
KID TALK:
Cloth diapers were used before paper ones. Diaper pins were used to attach the ends of the diaper when wrapped around the baby. How would you like the job of cleaning a messy cloth diaper?
Subjects:
Diapers
Pins & needles
Click to Enlarge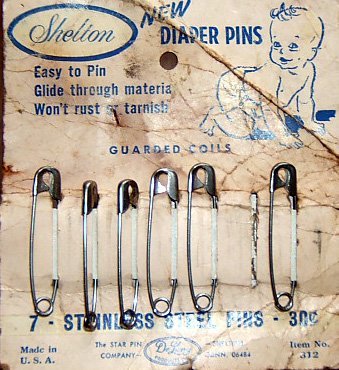 Shelton Diaper Pins