Title:
Popcorn popper
Catalog Number:
1999.3.2
Description:
Popcorn popper with wood handle and wire basket used over campfire.
Size:
H-2 W-7.5 L-26.5 inches
KID TALK:
Popcorn is often popped in a microwave. With this popper the corn kernals were place in the metal basket which was shaked over hot coals. It is fun to do. What do you think would happen if it was not shook fast enough?
Subjects:
Popcorn
Click to Enlarge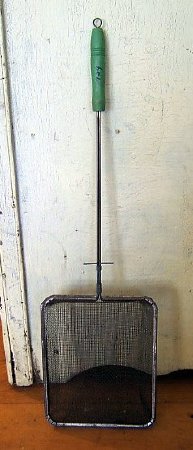 Popcorn Popper