Title:
Steel roller skates
Catalog Number:
2000.5
Notes:
Adjustment key pinned to one skate.
Description:
Steel roller skates with ball bearing wheels designed to clamp on to shoes. Skates can be adjusted using a key to fit different sizes of adult shoes.
Date:
ca. 1940's
Size:
W-3.5 L-10 inches
Inscription:
Hustler Speed King
Hustler Corp., Sterling, IL
Made:
Hustler Speed King
KID TALK:
Perhaps you have some roller skates. These skates were made to fit over your shoes. They were attached using a key to tighten them onto the shoe. Can you think of an advantage of having roller skates that fit over a pair of shoes?
Subjects:
Roller skating
Click to Enlarge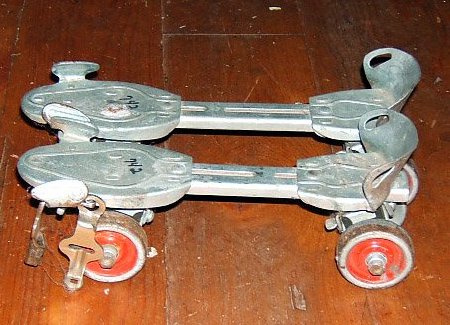 Steel Roller Skates