Title:
White two story dollhouse
Catalog Number:
0021.18
Description:
White handcrafted two story dollhouse with cedar shingles, wood clap siding, four bay windows, window shutters, pillars on front porch, doll furniture, and French doors open to balcony.
Size:
H-31 W-58 D-21 inches
KID TALK:
Homemade doll houses can be made from materials often found around the house such as scarps of wall paper, left over floor tiles, pieces of wood paneling, etc. Can you think of some other useful materials to make a dollhouse?
Subjects:
Dollhouses
Click to Enlarge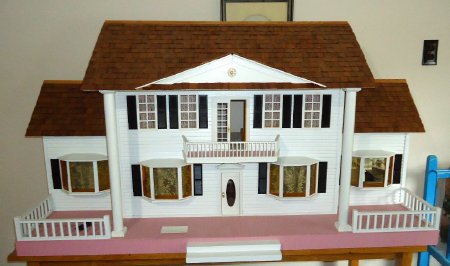 Two story dollhouse