Catalog Number:
0021.17
Notes:
Contents of doll clothes cabinet:

blouse; red velvet and pink dress; black, sleeveless evening gown; white dress with yellow collar and flowers; sleeveless suit with black velvet bouse and pink skirt, white sleeveless dress; red velvet jacket; 2 brass colored chairs; and white double drawer doll house furniture.
Description:
Handcrafted wood doll clothes cabinet with wooden dowel hanger and wall paper lining.
Size:
H-25.75 W-22.5 inches
KID TALK:
This is a handy homemade doll clothes cabinet. It was made from scraps of wood, a wood dowel, and some left over pieces of wall paper.
Click to Enlarge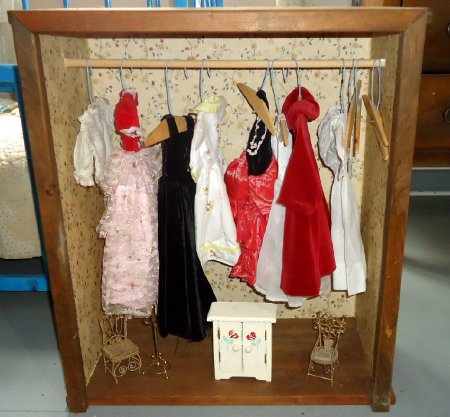 Handcrafter Doll Case