Publications
All of the publications of the Amberg Historical Society shown below are available for purchase at the Amberg Museum. Some as noted may be purchased at Amazon.com.
Amberg, the first 100 years, 1890-1900.
This premier publication of the Amberg Historical Society contains stories and photographs about the history of the Town of Amberg including the important industries of quarrying, logging, railroads, and farming. It tells the early history of the towns of Pembine and Niagara that had their origins from the Town of Amberg. Learn about the extinct towns of Argyle, Martindale, and Cedarville. Explore the early life and culture of the area. Includes a collection of local family histories. Reprint 2020. 301 p. : ill. ; 28 cm. Available Amazon.com.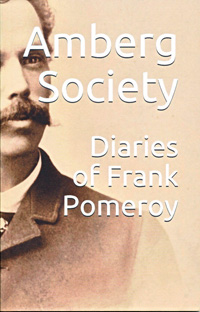 Diaries of Frank Pomeroy
Frank Pomeroy writes about the difficulties and good times of life in the booming community of Amberg in 1891-92. There were threats of forest fire, pleasant evening walks with his family, the excitement of watching the dams open to begin river drives, the anticipation of beginning a new business, an unusual hunting trip, the discomforts of long winters, and an unexpected trip home riding aboard the 3 A.M. freight train. Enjoy a rare look into life at the beginning of the settlement of the pioneer town of Amberg. Printed 2020. 171p. : ill.; 20 cm. Available Amazon.com.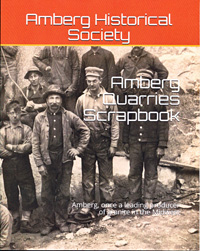 Amberg Quarries Scrapbook
Photographs taken from the Amberg Museum in Amberg, Wisconsin are used to describe the work of the pioneers who opened numerous granite quarries that made Amberg a leading producer of granite in the Midwest. Learn how it was done and about some of the tools that made it all possible. Includes interesting anecdotes related to the local quarrying history, biographical sketches of local quarryman, and an annotated bibliography of references related to the research. Printed 2020. 53 p. : Ill.; 26 cm. Available Amazon.com.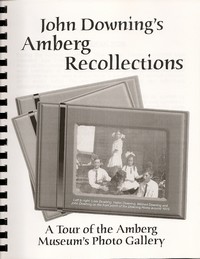 John Downing's Amberg recollections: a tour of the Amberg Museum's photo gallery.
The publication includes the complete transcript recorded and transcribed in 1996 of John Downing, one of the founders of the Amberg Historical Society, as he recalls his memories, told with his unique humor and wit, of people, places, and events portrayed in the museum's photo gallery. Includes a DVD with original voice recordings of selected anecdotes and related photographs. Reprint, 2009. 28 p. : ill. ; 28 cm.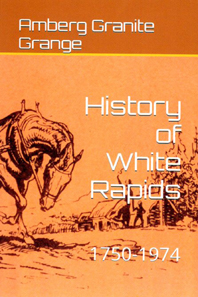 History of White Rapids, 1750-1974
The collection of stories, originally compiled by the Amberg Granite Grange, portrays the history of the White Rapids Settlement. It tells of the Indian culture, forest fires, the early days of settlers, churches, the school, the power dams, and includes personal anecdotes and family biographies. Second printing, 2001. 116 p. : ill. ; 22 cm.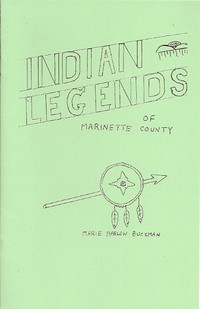 Indian legends of Marinette County by Marie Barlow Buckman.
A collection of eight Indian lore including the Pemene and Menominee Rivers, Thunder Mountain, Silver Cliff, Medicine Brook and others. 16 p. ; 20 cm.