Title:
Cookie display case
Catalog Number:
1997.2
Description:
Cookie display case from Redeman Store with three glass sides, metal frame, and removable lid.
Size:
H-10.5 W-10 L-10 inches
KID TALK:
The Redeman store offered some freshly baked cookies. They were kept in this glass container. What is you favorite kind of cookie? Do you think you could buy it at this store?
Subjects:
General stores
Display cases
Cookies
Search Terms:
Redeman Store
Click to Enlarge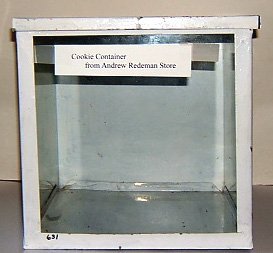 Redeman Store Cookie Container