Title:
Cigarette making kit box
Catalog Number:
1996.17
Description:
Bugler Cigarette Making Kit box with cigarette making machine.
Size:
H-5.5 W-3.25 L-6.25 inches
Made:
Brown & Williamson Tobacco Corp., Louisville, Kentucky.
KID TALK:
Instead of buying a pack of cirgarettes one could roll their own using this machine. Of course we know that smoking is not healthy.
Subjects:
Cigarette industry
Click to Enlarge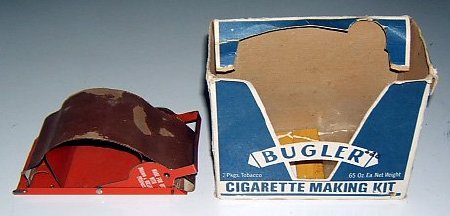 Bugler Cigarette Making Kit Box & Machine