Title:
Rockfit washer
Catalog Number:
1992.141
Description:
A "Rockfit" hand powered rocker clothes washer with wooden sides, zinc metal bottom, and a washing cradle with wood handle to swing back & forth all set on four wooden legs.
Date:
ca 1910
Size:
H-41 W-25 L-28 inches
Inscription:
Rockfit
KID TALK:
Who do you think was made to rock the cradle to wash clothes? Most children have fun rocking the cradle, but do you think it would be fun to have to wash the clothes using this rocking washing machine?
Subjects:
Washing machines
Click to Enlarge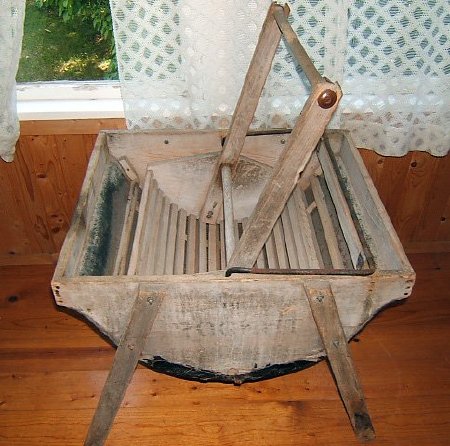 Rock It Clothes Washing Machine