Title:
Bill Dobbs Nutcracker
Catalog Number:
1992.79
Description:
Cast iron dog nutcracker patented by Bill Dobbs who lived near Parent Dam in Amberg who often gave these as presents.
Date:
1950
Size:
H-6 W-3.5 L-12.5 inches
Made:
Bill Dobbs, Green Bay
People:
Dobbs, Bill
KID TALK:
This was not meant to be a toy, however, most children would have fun using it to crack nuts. Where do you think the nut was placed? What did you push down to crack the nut?
Subjects:
Kitchen utensils
Click to Enlarge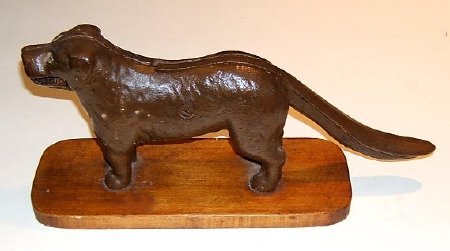 Bill Dobb's Nutcracker