Title:
Tinker Toy set
Catalog Number:
2001.4.3
Notes:
"215 pieces"
Description:
Tinkertoy set in original round cardboard tube with metal screw-on top.
Date:
ca 1960
Size:
H-15 Dia-4 inches
Made:
The
"The Toy Tinkers" -- Spalding Bros., Evanston, Illinois
KID TALK:
Tinker toys sets had wooden sticks and round spools that could be put together to make stick buildings, animals, windmills, etc. They have been popular since first made in 1914. Why do you think the sets were put in round cardboard tubes?
Subjects:
Toys
Search Terms:
Amberg School
Click to Enlarge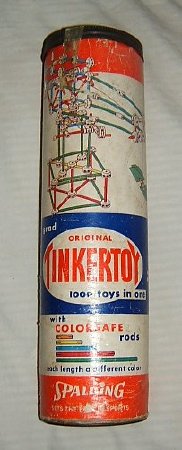 Original Tinkertoy