Title:
Hood's Paper Dolls
Catalog Number:
2002.13.5
Notes:
The back of each paper doll contains information about how Hood's products help to keep one healthy:

"…the true way to cure all nervous troubles is to feed the nerves upon pure blood; and to make the blood pure, rich, and healthful, there is no remedy equal to Hood's Sarsaparilla."

"Hood's Sarsaparilla has cured thousands even after all other prescriptions have failed."

"Every boy and girl should have Hood's Rainy day and Balloon Puzzles, the most popular Puzzles ever published."

"Hood's Painting Book is intended solely for patrons of Hood's Sarsaparilla and can be obtained only by sending three trade-marks and six two-cent stamps to…"

In booklet are other paper cutouts collected by June Hearty.
Description:
One set of Hood's paper dolls published complimentary to patrons of Hood's Pills.
Date:
1894
Made:
C. I. Hood & Co. , Lowell, MA
People:
Hearty, Betty June
KID TALK:
Hoods paper dolls could not be purchased. They were a gift to patrons of Hood's Pills. On the back were health tips and product advertisements. How could you use paper dolls?
Subjects:
Dolls
Advertising
Click to Enlarge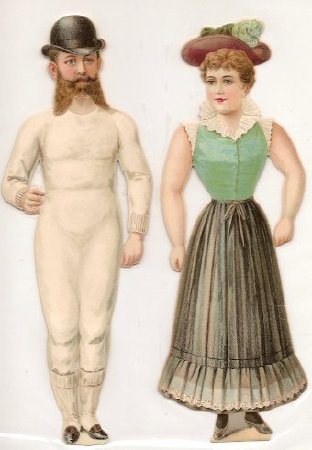 Hood's Paper Dolls